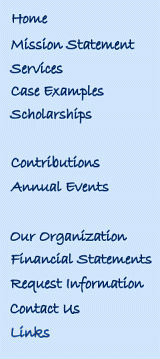 ---
Mission Statement
---
The following excerpts are on file with the Internal Revenue Service and the State of New York's Department of State. Copies of the complete by-laws of the organization are available by contacting: The Helpers Fund, 6318 B Main Street, P.O. Box 691, Chestertown, NY 12817.
Article II – Purposes
Part A. The Helpers Fund will assist needy individuals, and families, during times of emergency and hardship when the financial assets of such individuals, or families, are being depleted because of the existing hardship or emergency.
Article III – Hardship Defined
The Helpers Fund shall define hardship as any of the following conditions:
A. The individual or family member is facing a terminal medical situation.
B. A death in the immediate family.
C. Any condition, such as an accident or physical circumstance, which exhausts the financial capabilities of the family or individual's family, such as the following, but not limited to those listed: disruption of the family unit because of desertion, or divorce, spousal abuse, loss of family income, an illness which requires long-term care, a disability caused by an accident or illness, long-term rehabilitation because of an emotional or physical condition, any terminal condition, or a sudden circumstance which disrupts or threatens the stability of the family unit.
The Helpers Fund is a 501(c)3 charity certified by the Internal Revenue Service and governed by the IRS Regulations governing charities. The Fund is incorporated under the laws of New York State's Department of State, and is registered with the New York State Bureau of Charities.
---