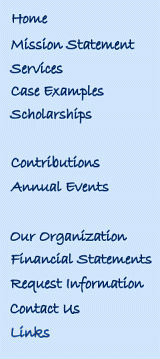 ---
Services Provided
---
The Helpers Fund was started in the Tri-Lakes Area in 1997. The Fund has expanded its programs and services in recent years to include:
assisting those families and individuals facing catastrophic circumstances in their lives with financial support,
offering scholarships to needy students who plan to attend a college or university and to those seeking vocational training which requires additional training and certification, and
providing a year-round food supplement program and a winter clothing program in conjunction with local schools.
The Fundís Holiday Drive program assists more than 50 families in the area making sure each family receives food and clothing assistance during this period.

The Fund assists families and individuals in the towns of Schroon Lake, North Hudson, Adirondack, Brant Lake, Chestertown, Riparius, Pottersville, Olmstedville, North Creek and Warrensburg.
---
Further information is available here for the following:
The Helpers Fund is a 501(c)3 charity certified by the Internal Revenue Service and governed by the IRS Regulations governing charities. The Fund is incorporated under the laws of New York State's Department of State, and is registered with the New York State Bureau of Charities.
---