---
5k-10k Races
---
Race results for 2016 are online on this site
and also on Granite State Race Services
---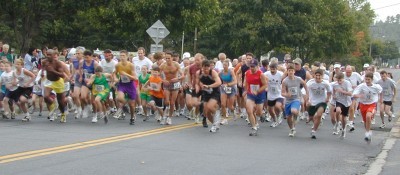 The Helpers Fund 5k-10k Races are held each September in Chestertown, NY. They are part of the popular Adirondack Marathon Distance Festival, which includes a weekend of road races culminating in the Adirondack Marathon and Half-Marathon on Sunday in Schroon Lake.
All proceeds from the races assist individuals, families and children facing extreme hardship in their lives.
---
Can't participate in the races? Contributions to the Helpers Fund are always welcome, at this time and throughout the year. Please see our Contributions page for information on making a donation. Thank you!
---
HELPERS FUND TRACK RECORDS
5k Male

16:05 (2015)
Paul Allison
North Creek, NY

5k Female

20:05 (2013)
Acadia Dinardo
Underhill, VT

10k Male

35:20 (2003)
Craig Fischberg
Ballston Spa, NY

10k Female

39:39 (2007)
Anne Hessberg
Slingerlands, NY
Seventeenth Annual Race results - for 2015 are here
Sixteenth Annual Race results - 2014 is online here
Fifteenth Annual Race results - 2013 is online here
Fourteenth Annual Race results - for 2012 are here
Thirteenth Annual Race results - for 2011 are here
Twelfth Annual Race results - 2010 is online here
Eleventh Annual Race results - for 2009 are here
Tenth Annual Race results - for 2008 are here
Ninth Annual Race results - 2007 is online here
And now, the Eighth Annual Race results are available - 2006 is online here
Seventh Annual Race results - for 2005 are here
Sixth Annual Race Results Posted - read about 2004 here
Fifth Annual 5k-10k Races Raised a Record Total - read about the 2003 event
The Helpers Fund is a 501(c)3 charity certified by the Internal Revenue Service and governed by the IRS Regulations governing charities. The Fund is incorporated under the laws of New York State's Department of State, and is registered with the New York State Bureau of Charities.
---